Scientists May Have Found a Way to Reverse Age-Related Hearing Loss
DSS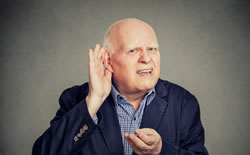 It's often common for adults to have a harder time learning a language or musical instrument than children. The problem isn't always that they can't remember words or music notes. Sometimes the problem is that they can no longer distinguish between certain sounds.
Based on mice research, scientists at St. Jude Children's Research Hospital theorize that adults lose this ability because of a chemical in the brain. By restricting that chemical, they made auditory learning more efficient in adult mice. The research findings could lead to treatments that reverse age-related hearing loss in humans.
The Problem: Age-Related Hearing Loss
Scientifically known as presbycusis, age-related hearing loss is one of the most common problems that older adults face. It usually happens in both ears, but many people don't notice the gradual change.
Hearing trouble can make it hard for people to follow doctor instructions, respond to warnings and hear certain sounds such as smoke alarms. It can also make people feel isolated because they have a hard time enjoying conversations with friends and family.
However, a team of St. Jude Children's Research Hospital scientists have found that using drugs or genetic tools may reduce adenosine signalling to improve age-related hearing loss.
Why Hearing Loss Occurs With Age
There are several possible causes, one of which involves changes in the auditory pathway between the ear and the brain. The auditory thalamus is the part of the brain that collects and sends sounds to the auditory cortex, where the sounds are processed. These auditory sections rely on glutamate, a neurotransmitter, to communicate.
However, scientists found that levels of adenosine, a chemical in the thalamus, rise during the aging process. This chemical inhibits the release of glutamate, which hinders brain plasticity and efficient auditory learning.
Additionally, they found that the enzyme ecto-5'-nucleotidase is involved in the production of adenosine. In mice, the amount of this enzyme is lower in newborn mice than mature mice. Removing this enzyme returned the level of adenosine in adult mice to that of newborn mice.
Testing the Theory in Mice
The scientists used several methods to show that restricting adenosine or the A1 adenosine receptor is essential to changing how glutamate functions and to improving how adult mice respond to sound. When they reduced adenosine or blocked the A1 receptor in the auditory thalamus, the adult mice had a stronger response to the same tone that they heard weeks or months earlier. Although mice typically can't distinguish between similar frequencies, they gained this ability.
The research also demonstrated that the mice retained this ability for weeks afterward. They used an experimental compound, FR194921, to block the A1 receptor, which increased the number of neurons in the auditory cortex. Combined with sound exposure, it renewed auditory learning in the mice, and they retained the information. This suggests that it could be possible to create a drug that extends the window for auditory learning in humans.
How This Research Could Help Other Conditions
These research findings show that targeting adenosine could allow elderly people to continue learning new languages or musical skills. However, it could do so much more by helping conditions such as tinnitus and stroke.
Some auditory neurons become hyperactive in tinnitus patients, and a stroke can destroy the neurons. Different auditory neurons could be trained to replace or take on the role of those that are hyperactive or destroyed.
Targeting adenosine could also help adults adapt faster to cochlear implants. These electronic devices replace the function of the inner ear to send sound signals to the brain. It's possible that adults take longer than children to adapt because of declined auditory plasticity. Because of that, improving auditory learning might accelerate cochlear implant adaptation.
Challenges of Targeting Adenosine
Since adenosine affects other bodily functions, scientists say that administering adenosine-blocking drugs could cause an array of unwanted side effects. However, they're still researching if there's even a way to control the chemical so that they can develop clinical treatments. There are still many questions to be answered, and it will take years before human clinical trials are possible.