Tragic Accident Claims Life of Colleague, Friend and Fixture in the Biotech Industry, Steve Wines
(PRWEB) June 15, 2016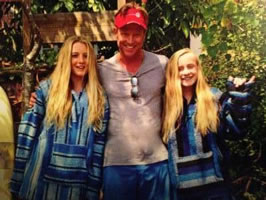 Steven Brent Wines, a Marin County resident since 1997 and UC Davis Alum, succumbed to injuries he sustained while snowboarding in Lake Tahoe. Steve was surrounded by his loving family and devoted friends at the time of his passing.
On February 4th, 2016 Steve was involved in a serious snowboarding accident that left him with substantial brain trauma. Steve passed away from his injuries on February 10th, 2016.
Steve cherished his family and friends, especially his two daughters Abigail (Abby) and Elizabeth (Ellie). The time he spent with his daughters was the most precious of his life and he loved to share stories of his time with them, as well as their many accomplishments with his friends and colleagues. He was both a loving and beloved father of two wonderful young girls.
Steve was born on February 4th, 1969 in Boise, Idaho to Leland and Mary Wines. He was an avid outdoorsman and sportsman. Between his personal life and his professional life, with his adventurous can do attitude, Steve packed in a lot of living and had many accomplishments to show for it. If there was something that he wanted to do, at work or at play, he would do whatever he needed to do to make it happen and then enjoy it to the fullest. He truly inspired the lives he touched, leading by example.
In addition to his friends and family, Steve's passing is a huge loss to the Biotech industry. He was a true professional and worked tirelessly throughout his career to not only meet but to exceed the expectations of his clients and the scientific instrument manufactures he represented at Discovery Scientific Solutions.
Steve was taken from us way too soon and will be missed by many but his legacy lives on through his two teenage daughters, Abby and Ellie. An education fund has been set up for them in his honour to help them realize their full potential and the hopes and dreams Steve had for their futures. The information for their education fund is below if you would care to make a contribution.
Abby & Ellie Wines Education Fund
#50011088051
First Republic Bank
1400 Civic Drive
Walnut Creek, CA 94596