Biopreservation Brings Success to Cell Therapy Product Commercialization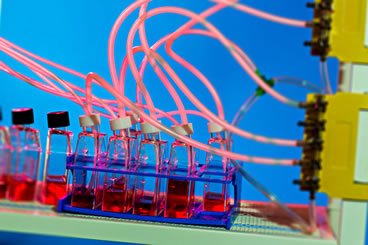 At the World Stem Cells and Regenerative Medicine Congress held in London last 2013, Dr. Aby Mathew, BioLife Solutions' Senior Vice President and Chief Technology Officer discussed about how vital biopreservation (upstream and downstream) is to every bioprocess in order to contribute to successful cell therapy product commercialization.
The cell yield can be positively influenced to COGs (Cost of Goods Sold) ratio with the help of a biopreservation strategy and a commercialization system. For any cell therapy product to become globally competitive and to be distributed worldwide, the company must develop their own biopreservation strategy, determine clients that the company is interested in and initially analyze the market spheres where the product will be distributed. Bioprocessing can be as costly due to a demanding amount of system costs and the decrease in the cell therapy products' system yield, workability and function over time.
Mathew enumerated two main goals that cell product distribution aims for from the delivery to storage. First, the maximization of the source material by making sure that package 1 to 1000 are shipped all at the same time. Second, the reduction of system costs, specifically, the possibility of contamination and variability during the entire process.
Biopreservation relies heavily on cryopreservation (hypothermia), wherein biological samples are immersed into liquid nitrogen of extreme low temperatures. Cryopreservation has been shown to cushion damages to bone marrow and blood units for up to 3 days, making it a good option for a wider marketing platform.
Some of the important points to look after during cryopreservation include the cooling rate, storage temperature and a certain type of cryoprotectant reagent. The end user of these cryopreserved cell therapy products are given the choice to manipulate these products by washing/dilution and warming before infusion can be made. Read-to-use dosages should be included in the product to instruct end users of its variability.
"Biopreservation is vital for clinical reach and product economics," Mathew stated. Population selection by apoptosis and cell concentration initial freezing can become substitutes to freezing and thawing as these methods contribute to cell death. With the methods mentioned, cell infusions can be administered through infusion.
According to Dr. Mathew, 65% of the speakers of the Congress have performed the intracellular-like freezing media approach he suggested for improved manufacturing and functionality of cell therapy products.
Cells respond to low temperatures by decreasing their metabolism. After thawing, full restoration of cells can only be determined once they are proven functional. BioLife Solutions have come up with cryopreservation steps such as pH safeguarded protein and animal origin free-serums and cGMP-grade freezing media in order to maximize the performance of cell products even with manipulations conducted by the end users.
Innovations on the functionality and distribution of cell therapy products have gone a long way to provide end users with maximum performance to establish effective solutions for several types of patient therapies. These modern biopreservation techniques only require expert quality technological products to produce precise and reproducible results.
Discovery Scientific Solutions (DSS) offers highly advanced scientific laboratory technology supplies and equipment ideal for various innovation applications.